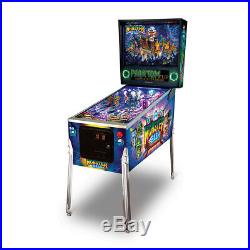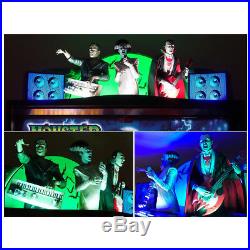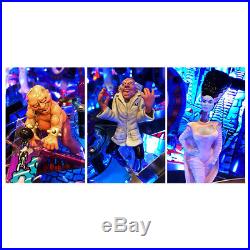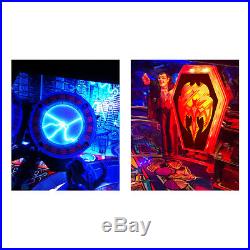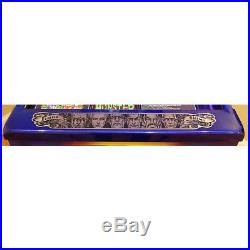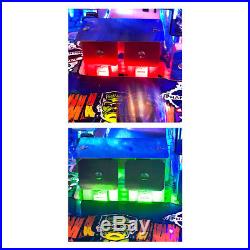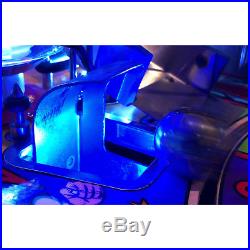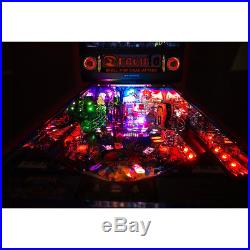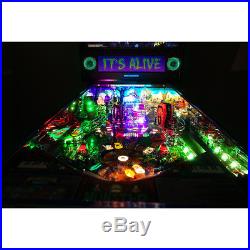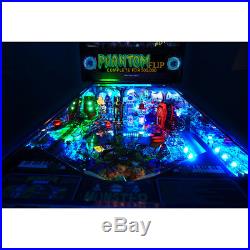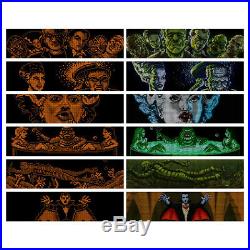 Pool Tables & Billiards. Clocks, Signs & More. Monster Bash Remake Special Edition Pinball. Monster Bash Remake Special Edition Pinball Monster Bash is the highly anticipated third game in Chicago Gamings series of remakes of the greatest Bally and Williams pinball machines. Monster Bash Remake was recreated to exceed the high standards of the original game. By using modern electronics, LED lighting, and today&###x2019;s manufacturing technology, the game will provide the pinball experience you have grown to love along with the reliability and craftsmanship that is demanded in today&###x2019;s pinball market. Monster Bash Remake is available in three models specifically designed for each level of the pinball marketplace: the Classic Edition, the Special Edition, and the Limited Edition. ALL three models include numerous features that were never before available and are exclusive to Monster Bash Remake. Custom Topper (Limited Edition Only) The Monsters are ready to rock and have hit the stage in this custom 3D sculpted topper only available on the Limited Edition. This custom topper features Frankenstein, Dracula, and the Bride of Frankenstein on the stage in their full glory. These creatures are over 7&###x201D; tall and are a beautiful addition to the Limited Edition. Integrated LED lighting casts a ghoulish glow on the monsters as they perform on this stage. Front Molding (Limited Edition Only) The stunning Electric Blue Metallic Front Molding is adorned with a one of a kind photoengraved stainless steel piece of artwork that was created just for the Monster Bash Remake Limited Edition. You can feel and see the amazing detail and craftsmanship that was put into the Limited Edition. Interactive RGB General Illumination (Limited and Special Editions Only) For the first time ever, Monster Bash Remake will have fully interactive RGB General Illumination. Monster Bash Remake changes the general illumination of the playfield to enhance the playing experience. Watch as each monster now has their own unique light show to add to their eerie performance. Improved Playfield Monsters (Limited and Special Editions Only) All the Monsters went through a little extra preparation as they were getting ready to take the stage again. The added details on the Monsters are sure to please the crowds. LED Lit Popper (Limited and Special Editions Only) Monster Bash Remake features a custom LED lit popper. During normal game play the popper is blue and blends with the lighting of the playfield, but when you make the shot, the popper turns red and then launches the ball out to continue your quest to create the greatest concert of the centuries. LED Lit Moving Targets (Limited and Special Editions Only) Watch as Frankenstein is being put back together. Every hit to the moving targets not only helps you get Frankenstein on stage, but also changes the moving targets lighting from green to red. Plasma Disk (Limited Edition Only) Dr. Frankenstein has been very busy lately. He built a plasma disk in his lab to increase the power to Frankenstein and the whole Monster Bash remake game. Watch it come to life as everything needs more power! LED Drac Coffin (Limited Edition Only) Dracula decided to join in and added some extra LED lighting to his coffin. Watch out though when his coffin glows, he will be coming out to join the band. Premium Enhanced Sound System (Limited and Special Editions Only) Sound is a crucial component of the player's experience. The system's class D digital amplifier powers two 120-watt poly-cone coaxial speakers and a single 8 190-watt poly-cone woofer to provide an unprecedented immersive audio experience. Additionally, owners are now able to control the balance between the speaker panel and the cabinet woofer. Whether you prefer thumping bass or something more traditional, you now control your audio experience. The speakers are illuminated with red, green and blue tri-color LEDs. These are utilized to create lighting effects which have been integrated into gameplay. XL Display – Nearly 2x the viewable area! (Limited and Special Editions only) HD Color Upgrade (Limited and Special Editions Only) ATHYRIO GAMES has done it again and created all new full-color display artwork, re-imagined within the framework of the original Williams display artwork at four times the resolution. Nearly 3,300 frames have been painstakingly animated to create a display that features full color and four times the number of dots as the original Williams game. Premium Enhanced Sound System. RGB LED General Illumination. RGB LED Back Board Lighting. Bicolor LED Lit Moving Target, Creature Hole and Popper. LED Lit Dracula Coffin and Spinner. Improved Decoration on Playfield Monsters. Monsters of Rock Topper. Engraved Stainless Steel Front Molding Plaque. Serialized LE Medallion (Numbered 1 to 1,250). Monster Bash &###xAE; & &###xA9; 1998, 2018 Williams Electronics Games, Inc. Manufactured under license from Williams Electronics Games, Inc. &###xA0;&###xA0; The Universal Studios Monsters are trademarks and copyrights of Universal Studios. &###xA0; Licensed by Universal Studios. Welcome to the Game Room Guys, the premier provider of arcade games and fun! Whether it's pinball, air hockey, foosball, or any other arcade quality game, we can help you build the game room you've been dreaming of. We have been providing gaming products and services to both commercial and residential clients since 2001. Customer service is our #1 priority and we retain a full office and technical staff to handle any questions and concerns our customers may have. As a growing member of the arcade and home entertainment industry, we continually strive to provide our customers with the highest quality products at competitive prices. What separates us from other online retailers is our extensive experience in the coin-operated arcade industry. Thank you in advance for shopping with: The Game Room Guys. Pinball Machines, Arcade Games, etc. All games are delivered with a liftgate service and the driver will place the item in your driveway. They may place it in your garage, but are not required to do so. We have many partners who would be happy to install and setup your machine if you would rather not do so yourself. Do you have questions? Unlike many internet retailers, we love interacting with our customers. No voicemail and no wait times. We have highly experienced customer service representatives and technicians who are happy to assist you with any question or concern you may have. Please let us know how we can help. Add to Favorite Sellers. Sign up to Newsletter. View more great items. This listing is currently undergoing maintenance, we apologise for any inconvenience caused. The item "Monster Bash Remake Special Edition Pinball" is in sale since Saturday, October 20, 2018. This item is in the category "Collectibles\Arcade, Jukeboxes & Pinball\Pinball\Machines". The seller is "gameroomguys" and is located in Comstock Park, Michigan. This item can be shipped to United States, Canada.
Brand: Chicago Gaming
MPN: 13000_SE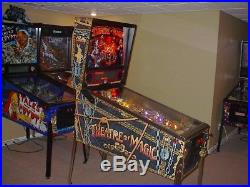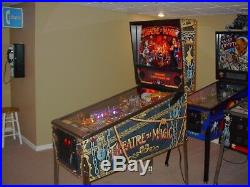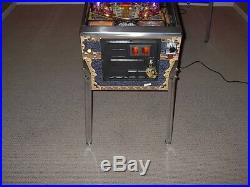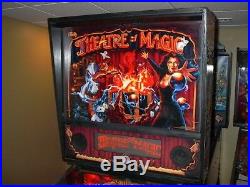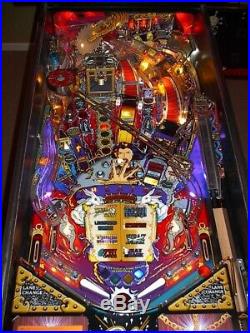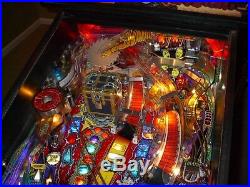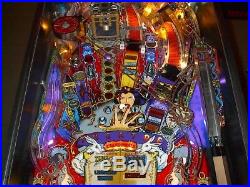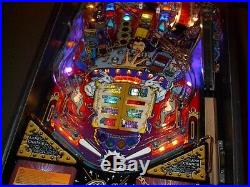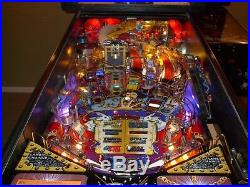 Gorgeous faux leather and brasswork cabinet… Can you escape from the trunk? BRAND NEW playfield glass and power cord! BRAND NEW chrome legs, bolts and levelers! BRAND NEW door lock! Nice coin door with collector key chain fob included! Fabulous backglass artwork features all of the illusions! BEAUTIFUL ORIGINAL playfield with loads of toys! All playfield lighting has been upgraded with a deluxe L. Shoot pinballs into the MAGIC ROTATING TRUNK! Go for the TIGER SAW multi-ball! BRAND NEW lane guides and pop-bumper caps! Trunk lock and chain mod installed! Check out the SPIRIT RING magnet diverter! Gold powder coat wire-form ramps! BRAND NEW center targets installed! Can YOU complete all of the illusions and make it to the GRAND FINALE? Flippers have been rebuilt with new mechanicals, bats and custom purple flipper rubber! Everything has been detailed and polished to a mirror-like shine! IN-HOME SERVICE and FREE LIFETIME TECH SUPPORT! If you have a problem with this game and are within our service area, we can come out to your home and repair it. This is our business, not just a hobby like most sellers! We are so confident in our restorations that we back them up, unlike other fly-by-night sellers that like to put the words "AS-IS" on all of their auctions. The reason we can back up the games we sell is because we actually do the work that's needed to make the game perform reliably for years to come. It requires a LOT of work and experience to make a 10, 20 or 30+ year old pinball machine reliable. An unrestored game usually results in EXPENSIVE repairs! Don't fall for sellers that only show you a picture of the game sales FLYER and not a picture of the ACTUAL GAME they will send you! Pinball machines can NEVER be compared simply on price and as always… YOU GET WHAT YOU PAY FOR! Due to my in-your-home restoration services, I have a proven track record of service and support in the Eastern Pennsylvania, Central/South Jersey and Northern Delaware areas. This game has been professionally inspected and serviced for reliability and enjoyment. I have many years of experience in pinball repair and restoration as a business, not just a hobby. Anyone can change a few rubbers and light bulbs on a game and call it "shopped". One of my personal favorites… This game was produced in 1995 by Bally/Williams, creator of the greatest pinball machines of the 80's and 90's. Theatre of Magic is simply one of the GREATEST PINBALL MACHINES EVER CREATED! It has so many features and such a fabulous ruleset that it is on most pinball collectors top-ten best games of all time. What better theme to use for a pinball machine than magic, mystery and illusions? I have NEVER met anyone that did not like the great magic shows of the past or present and this pinball machine truly brings those spectacles to life. There simply cannot be enough good things said about this game. It's simply AMAAAAAAAZING! Listen to the eerily fantastic soundtrack as you plunge your ball up the ramp to the Theatre entrance. Go for the MAGIC trunk… If you can hit it three times, it will spin around to reveal a secret entrance to start your first ILLUSION! There are multiple illusions to complete such as the Tiger Saw, Hat Magic, Levitating Woman, Spirit Cards, Safe Escape and MORE! Blast the center targets and spell "MAGIC" to reveal the secret ball locks. Lock two balls and watch the trunk spin again to reveal a spiral design. Shoot the spiral and see your ball LEVITATE and DISAPPEAR to start the three-ball MULTI-BALL FRENZY! There's also a TRAP-DOOR that will rise from the playfield. Hit the ball into it and get a MYSTERY AWARD! Try to complete the THEATRE letters and advance the clock too, which will reveal the WIZARD MODE for HUGE scoring possibilities! Check out the video mode that allows you to play video-pinball right on the dot-matrix display to win EXTRA BALLS! There is also a HOKUS-POKUS outlane ball-save feature that will mystify you! Those features are just the beginning. You have multiple ramps, ball scoops, spinners, stationary targets, roll-overs, pop-bumpers, slingshots, kickout saucers, loop shots and more! With all of the features of this mega-classic, you will NEVER get bored with it! The popular and FAMILY FRIENDLY theme goes great in any home gameroom! The collectable games are getting harder to find every day and you just don't come across Theatre of Magic games in this condition very often! The playfield on this game is a beautiful original which has been polished to a mirror-shine. The playfield ramps and plastics are in great condition with minor imperfections. Lighting package was installed on the playfield as well as the trunk-chain and lock customization. The flippers have been rebuilt with new mechanicals and new center targets have been installed. The backglass translight is an excellent original and not a reproduction. The cabinet is very nice with some nicks and blemishes and has original artwork, not reproduction decals. BRAND NEW chrome legs, bolts, levelers and playfield glass have been installed. See below for a list of what has been done to this game. This Theatre of Magic plays lightning fast just like it did in 1995! Here are just some of the things that were done to this machine: Circuit boards have been fully tested and inspected Any burned connectors have been replaced BRAND NEW batteries installed on logic board Any burned coils have been replaced Fuses checked for proper type and value Cabinet is thoroughly cleaned inside and out All glass and glass channels are cleaned BRAND NEW playfield glass BRAND NEW chrome legs BRAND NEW leg bolts BRAND NEW leg levelers BRAND NEW power cord BRAND NEW coin door lock Shooter has been rebuilt with new springs and sleeve All playfield lamp inserts have been cleaned Playfield has been completely disassembled and polished Playfield lighting has been upgraded with a deluxe L. Package BRAND NEW playfield posts installed BRAND NEW lane guides installed BRAND NEW pop-bumper caps installed Center ramp protector kit installed Pop-bumpers and slingshots serviced as needed BRAND NEW flipper linkages installed BRAND NEW flipper coil stops installed BRAND NEW flipper coil sleeves installed BRAND NEW flipper return springs installed BRAND NEW flipper bats installed Custom purple super-bands installed on flippers Custom trunk lock and chain mod installed Custom full color score and instruction cards BRAND NEW mirror-finish balls have been installed A full diagnostic test and software configuration was performed This game plays just like when it was brand new! For buyers local to our area, we can service the game in your home if needed. You won't be left out in the cold after the sale! The item "Bally THEATRE OF MAGIC Collector Classic Arcade Pinball Machine" is in sale since Thursday, January 3, 2019. This item is in the category "Collectibles\Arcade, Jukeboxes & Pinball\Pinball\Machines". The seller is "pinballclinic" and is located in Phoenixville, Pennsylvania. This item can be shipped to United States.