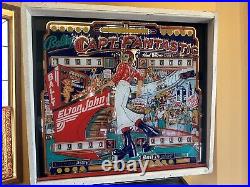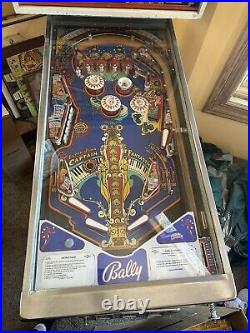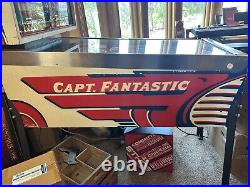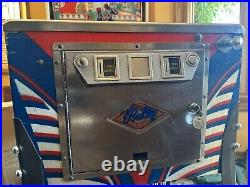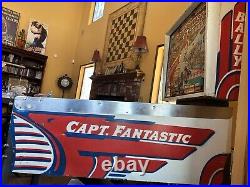 Captain fantastic Bally version, 1976. Machine is playable, please let me know if you have any offers.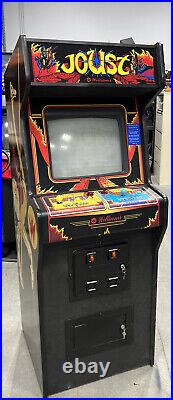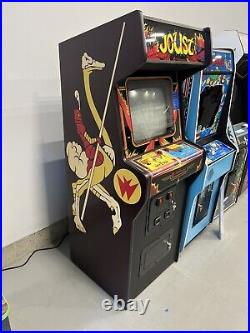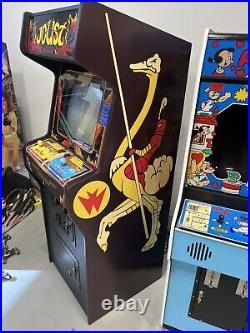 Very nice restored original Williams Joust arcade machine. This game has all of the original boards and power supply in the game. I have installed a Jrock multi-williams board in the game playing only Joust, to protect the original equipment. It is all there though. Entire cabinet has been redone, coin doors refreshed, controls and electronics checked. Side and at CP art all replaced. Inside is perfect with the original crt. The monitor is very clear and bright. LOOKS LIKE A NEW GAME but is 40 years old! This is the real deal from the 80s. All boards (electronics), controls, and cabinet, are all restored original. Our games go through an extensive. Restoration process which includes extensive bodywork to ensure that the game. Is as close to perfect as a 40-year-old game can be. We work to sharpen edges. Replace laminate and go through the games to ensure that they are just right. Many hours of work, materials, and pride go into each game to ensure that it is. A working piece of history that is also fun to play! These games are not new. Cabinets made to look old. Our games use the original cabinet brought back to. Life to ensure maximum historical and collector value. We can provide more if needed. I will have it ready to go when they arrive. You will love this game!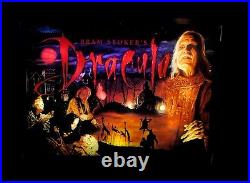 DRACULA Complete LED Lighting kit. Dracula Custom Complete LED Lighting Kit contains all LED bulbs needed to change out incandescent bulbs for a full LED playfield, GI, backbox and ALL flasher bulbs. Custom complete LED Kit includes color specific bulbs with placement charts for both playfield and backbox. All #555 and #44/#47 bulbs are Super Bright Quad 4LED bulbs and all #89 and #906 are Ultra Bright 8LED Flasher bulbs. Safety Warning: Super Bright Quad 4LED bulbs are exactly that, Super Bright, please do not look directly into the light without eye protection, or under playfield plastics, or behind the backglass. LED does not mean safer for the eyes. It does mean much brighter lights, far less energy consumption and far less heat inside the pinball machines. Both Super and Ultra Bright LED bulbs have a 50,000 hour lifespan. Are AC/DC current and if a bulb does not work, turn it around the other way.. ! Listing Includes: Dracula LED Lighting Kit (Pinball Machine NOT included). All Pinbulbz kits are premium super bright smd bulbs. Unlike other company kits, we custom create each kit with full color and include specialty lighting (Color changers, flex bulbs and flashers, uv bulbs & flashers, fire bulbs, etc.) throughout our kits. We have kits for over 200 pinball machines available. Additional kit options include upgrade to color change GI bulbs or if preferred, all white or warm white GI bulbs for a fresh clean look or traditional look. Cool or Bright white will give a nice clean, fresh, new look and warm white will give a traditional incandescent look. Pinbulbz has the best quality kits available, at absolutely unbeatable prices. We only stock premium and specialty bulbs, and our kits are chock-full of em. Super Bright Bulbs and Ultra Bright Flashers, Color Change Bulbs, Fire Bulbs, UV Bulbs and Flashers, Flex Bulbs and Flashers, Dome Bulbs, etc.